Drag Text is a form of a multiple choice question that allows the learner to identify which words belonging to which sentence in response to a question. The learner is given several words to choose from and must decise which word to place into one of several sentences. In the context of a video this tool is ideal to check understanding of recently provided information.
Click on the Drag Text icon.

The Drag Text question editor should now appear.
The main part of the editor looks like this: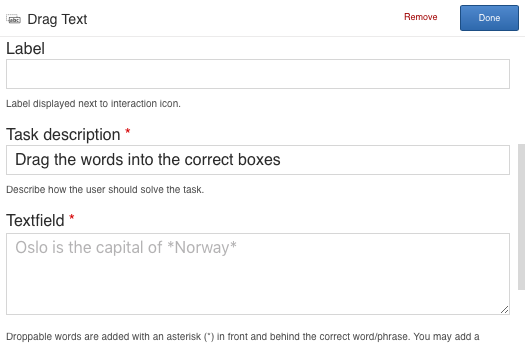 Select the word you want the learner to identify by placing an asterix * before the first and after the last letter of the word.
Ideally should create multiple sentences and word answers. The question sentences will appear in the order written but the word answers will be randomized. The learner drags their word choice onto the space provided in the sentence of their choice.
You can give the learner a clue using a "tip" by placing a colon : before the "tip" immediately following the word. Remember to then place the second asterix after the "tip".
Behavioural settings allow you to enable a retry and for the correct answer to be displayed if the answer is incorrect.
The Adaptivity settings provide options for different things to happen with the video jumping ahead with a correct answer or jumping back to have the learner review the video to get the answer correct.